Home Theater System – Do They Add Value To Your Baton Rouge Home? 
This was originally shared on my ActiveRain blog here:
http://activerain.trulia.com/blogsview/4483192/beware-of–how-to-increase-the-value-of-your-home—–advice
More MISLEADING "How To Increase The Value Of Your Home…." rhetoric from Home Industry "Salesman"
Home Theater systems, Inground Swimming Pools, Sprinkler Systems, 30kW Backup Generators, Excessive Landscaping…how the add-on home sales industry misleads with "This will add value to your home…"

1.) A Home Theater System or "Media Room" is generally already in a room in your home and you didn't add that room.  Most I see are in a second floor Family Room. The built in cabinets to hold the system and prop up the speakers are already there or would be normal cabinets without such a system in place.

2.) Much of a home theater system hardware is "Portable" equipment and just like your refrigerator or home stereo system isn't installed "real estate", neither is your home theater system hardware. It would depend on if it's a built in permanent system or not.  Portable in "real estate" means it doesn't have extra value.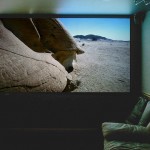 3.) These systems are usually negotiated for as personal property items in a purchase agreement, meaning they're not part of the sales price of the home.  And, if they are personal property and part of the same price of that home, then the Appraiser has to determine IF that system actually adds value to that home and how much?  In Today's Market from a mortgage lending perspective,
4.) YES, if left with the home, they would help sell the home….just like today's $8,000 exterior backup generator don't add much value but do help sell the home.
NOTE: Image source is via Wikipedia creative commons in public domain.
Bill Cobb is Greater Baton Rouge's Home Appraiser.  Contact Bill at 225-293-1500.