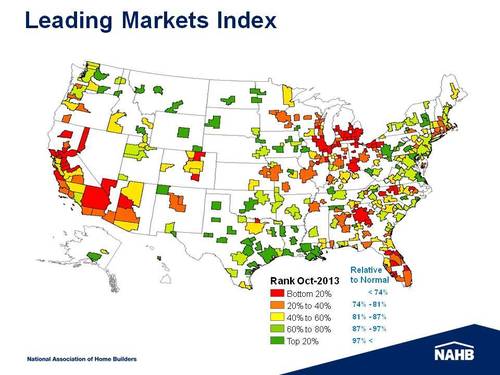 Baton Rouge Real Estate News's insight:
Baton Rouge Posts Best Score on Index of Leading Housing Markets…More Good News For Our Market!
From National Assocation of Home Builders and shared by Builder Roy Domangue and REALTOR® Randy Anderson
NAHB's newly introduced Leading Markets Index (LMI) indicates that 52 metro areas nationwide have now returned to or exceeded their pre-recessionary levels of housing activity. While the nation as a whole has returned to 85% of normal in terms of key measures of housing strength — single-family permits, prices and employment — Baton Rouge, La., earned the strongest LMI score out of any major metro area in October. That city's LMI score indicates that its housing market is now 41% stronger than it was prior to the recent recession.  Other major metros at the top of the list include Honolulu, Oklahoma City, Austin and Houston, Texas, as well as Harrisburg, Pa. – all of whose LMI scores indicate that their housing markets now exceed previous norms. Looking at smaller metros, both Odessa and Midland, Texas, boast LMI scores of 2.0 or better, meaning that their housing markets are now double their strength prior to the recession. Also at the top of the list of smaller metros are Casper, Wyo.; Bismarck, N.D.; and Florence, Ala., respectively.  Commenting on the October report, NAHB Chairman Rick Judson said, "This index helps illustrate how far the U.S. housing recovery has come, and also how much further it has to go as we continue to face some significant headwinds in terms of credit availability, rising costs for lots and labor, and uncertainties regarding Washington policymaking." Read more in our press release or contact Robert Denk (800-368-5242 x8698).