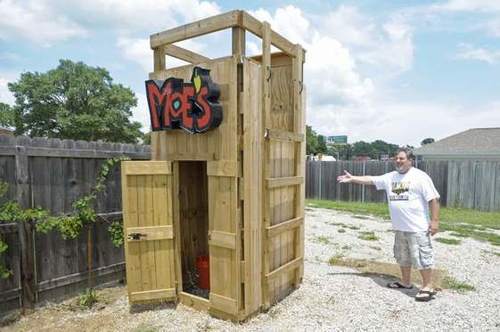 "A few yards outside David Mastrianni's four-bedroom, three-bathroom home is a 10-foot-tall wooden outhouse. But Mastrianni doesn't live in rural country where you might expect …Every time there's a heavy rain event, the toilets stop working, he said. When you have to use the bathroom seriously, we have to use the buckets, or else we'll go somewhere. Plumbing problems like Mastrianni's are not uncommon in Baton Rouge, which suffers from an undersized and inadequately maintained sewer system. Sewage flows out of manholes during heavy rain in neighborhoods across the parish. In some cases, sewage overflows into homes from toilets. That's happened to Mastrianni twice, so far."
Baton Rouge Real Estate News's insight:
Over the past 5-6 years, I've read and heard about this happening in Southeast and Southwest East Baton Rouge, in subdivisions like Springlake, Barkley Place and Parkview Oaks. I certainly feel for these residents because in 2008, in Denham Springs as a result of kids putting a brick and kitten down our white pvc pipe in the ground left by builder, sewage backed up into my home…not memories I ever want to repeat!
HAS THIS IMPACTED HOME VALUES IN THESE SUBDIVISIONS? Clearly with disclosure laws, a homeowner does have to report to potential buyers any and all damage to a home.
In Parkview Oaks, the 2010 average sold price per sq. ft. was  $87.43/sf and in 2013 YTD, it's been $94.63/sf.
In Springlake, the 2010 average sold price per sq. ft. was  $135.90/sf and in 2013 YTD, it's been $131.23/sf.  The 2010 high was primarily based on the newer home section selling. Now in 2013, there's more sales of older homes in the older sections and that could be the reason for the small correction as newer home sections have sold out and aren't reselling like the older sections.
In Barkley Place, the 2010 average sold price per sq. ft. was  $57/sf only based on 1 sale and in 2012-2013 YTD based on 5 sales, it's been $70/sf, overall lower because there has been some foreclosure activity within.
So, it doesn't appear that EBRP sewage backups are adversely impacting local home values or sales prices.  HOWEVER, I would most certainly avoid buying a home in a subdivision where it's common knowledge of sewer backups and/or the seller's disclosure states repeated sewage backups.
THE BACKED-UP RAW SEWAGE BLUES…for 18 YEARS, 1 couple in Barkley Place near Perkins at Siegen Ln has suffered through sewage backup.
http://digbatonrouge.com/article/the-backed-up-raw-sewage-blues-2281/
Shared from http://theadvocate.com/home/6495333-125/ebr-sewage-backups-prompts-suburban and Image Source is The Advocate.
See on theadvocate.com