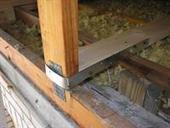 How Do I Strengthen My Home for Wind?
Wind is the most common and most costly cause of damage to light frame structures in the United States. During hurricanes, wind speed can exceed 75 mph and may include debris, which significantly increases the damage.
Several things you can do, however, can reduce the potential damage from high winds. Studies completed following recent hurricanes show that typical light frame structures (stick-built homes) have some weak places. By strengthening these crucial points, you can make your home much safer against wind.
Here are the crucial weak places in your home,
Roof – Gabled Roofs
Exterior doors and windows
Garage doors
Connections (Roof-to-wall, wall-to-foundation)
There's a full explanation below!
Source: LSUAGCENTER.COM
See on www.lsuagcenter.com