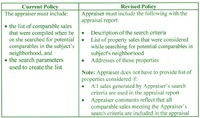 "A large lender has recently amended their appraisal policy regarding comparables. The table below was taken from their general information Correspondent Bulletin. The change greatly expands what and how an appraiser filters data.
It brings backseat driving to a new level. Imagine driving someone to a destination and having to provide a detailed list of every possible route to this destination as you arrive. Imagine having to provide detailed routes that you never seriously considered or had already discarded.
Imagine this conversation:
"Why didn't you turn left at the corner?"
"Because it leads off of a cliff."
"Show me."
Irritating, isn't it?"
Source: Brian Davis Appraisal Scoop!
My Take: I absolutely HATE scanning in pages and pages of potential comps I might have considered in a report and "modern" Appraisal Software really doesn't make that task any easier. And, I've stopped working for some AMC's that require me to spend 15 more minutes on a report to add this extra stuffing.
This is the DANGER of allowing Big Banks to grow their percentage of the mortgage lending market as so they dictate Home Appraisers like puppets! And, these Big Banks own their own AMCs or Appraisal Management Companies who control our Appraisal Fees. The nation's largest mortgage lender owns 2 AMC's that pay $140 less per job than the standard local customary and reasonable fee. This has got to stop! Bill Cobb, Appraiser
See on appraisalnewsonline.typepad.com