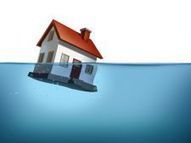 This is a helpful Inman News article on Timeline to reach desired equity position depends on 3 factors.
Don't think this applies to Baton Rouge Housing? Well, then you're not informed. For subdivisions like Nicholson Lakes 70810, Park Forest 70814 and Sherwood Forest 70815, there certainly are some that purchased at very, very high prices after Hurricane Katrina that are in 2012 underwater on their mortgage – they owe more than their homes are worth. Not ALL, but some.
From Inman News,"About 16 million homeowners owe more on their mortgage than their homes are worth, which means they are "underwater." So long as that condition continues, they have no equity that can be used to help finance the purchase of another house.
On the contrary, they can't sell the house without digging into their pockets to pay the difference between what they owe and what they can realize from the sale net of expenses.
But time heals most wounds, and negative equity is no exception. The principal component of the monthly mortgage payment reduces the loan balance by the same amount."
Read the remainder at the link below.
See on www.inman.com