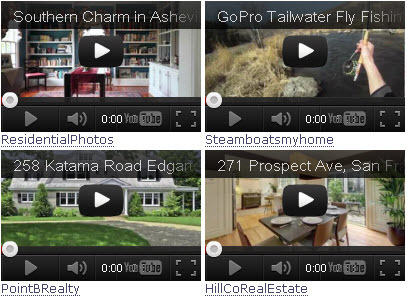 A YouTube video with property address in title is far more effective than a property website!
So says Larry Lohrman @ Photography For Real Estate and he explains why. YouTube is an authority site with billions of views per day whereas your property site is not. Posting to your online presence first and then to authority sites is smart.
YouTube is so incredibly powerful in getting indexed for search, is owned by Google yet so few local RE Agents even post to YouTube. In 2012 and beyond, your YouTube channel will be one of your most needed online properties you maintain for search!
See Edition 2 of This Week In Real Estate Video….I enjoyed the little review I did last week of what people were doing with real estate video so much I decided to do it again. One thing I did that I was insightful was I went to YouTube.com and did a search for real estate video and then filtered by time. If you do this you get a sense for the rate at which real estate video is being uploaded to YouTube. It's breathtaking! The rate of uploads of real estate video to YouTube is huge!
Via photographyforrealestate.net

Baton Rouge Real Estate Agent Tip: Why 1 YouTube Video Is More Important Than a Property Site